This article appeared in MoogMusic, a newsletter issued in February 1964 by the R.A. Moog Company.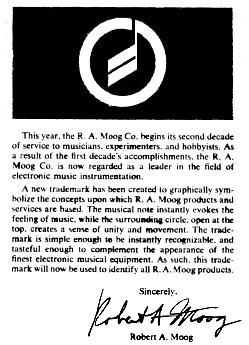 This year, the R.A.Moog Co. begins its second decade of service to musicians, experimenters, and hobbyists. As a result of the first decade's accomplishments, the R.A.Moog Co. is now regarded as a leader in the field of electronic music instrumentation.

A new trademark has been created to graphically symbolize the concepts upon which R.A.Moog products and services are based. The musical note instantly evokes the feeling of music, while the surrounding circle, open at the top, creates a sense of unity and movement. The trademark is simple enough to be instantly recognizable, and tasteful enough to complement the appearance of the finest electronic musical equipment. As such, this trademark will now be used to identify all R.A.Moog products.